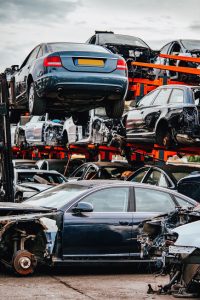 There are certain things a reliable salvage yard just doesn't do… and you should know these things so you can be wary of any yard that does them.
Ambiguous Weight Measurements
For starters, unclear weight measurements can sometimes happen and this is not good or truthful. For instance, you assume there are 2,000 pounds in a ton, but what if the salvage yard uses "different measurements" of tonnage that ultimately affect the amount of money you get for your car? Some unscrupulous yards will cheat customers out of money by utilizing unclear weight measurements that tip in their favor. For instance, there's a difference between net tons and metric tons– and they may use one or the other in their favor. Anytime you feel a salvage yard is being unclear or too vague you have the right to go somewhere else.
"Extra" Towing Charges
Next, some salvage yards will tack on "extra towing charges," which is not good. Sometimes they'll deduct fees from the quote once the car has been towed to their place, without having informed you about this beforehand. Obviously, this is not good. You should know whether or not towing is included in their deal with you, and make sure you read over the paperwork before you sign anything. Reliable salvage yards share information about towing with you before the towing takes place, while unreliable ones don't.
Beware of Bait and Switch
Finally, beware of bait-and-switch schemes where a salvage yard quotes you a great price for your junker over the phone, but then, when you arrive, they "find things wrong with the vehicle" and then conveniently reduce their offer. This is not good. It's best to get an offer in writing before you bring a vehicle to a salvage yard.
Reputable and reliable salvage yards, like All American Auto Salvage in Rahway, NJ, have a license to operate in the state they're in, an online presence, and favorable reviews. For more information about All American Auto Salvage, call 732-574-1945.