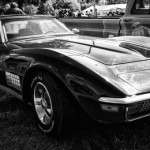 Scrap yards and junk yards are full of cars that have valuable pieces just waiting to be found. Car lovers across the nation scour these yards to find car bodies, fenders, bumpers and accessories. However, not everything in a junk yard is worth salvaging. For example, recycling fiberglass comes with some functionality and even health risks.
A fiberglass corvette just sitting in a scrap yard seems like the perfect restoration project. The car can be repainted, reupholstered and with a new engine, can be quite the ride. But that corvette has been sitting in the sun, and the fiberglass has begun to weaken.
As if sitting in the sun isn't bad enough for the car, it is also vulnerable to the elements. A cold climate means that car has sat through rain, snow and ice all of which can weaken the fiberglass as well as affect the coloring and shape. So although that corvette looks like a fun fix-up, the body isn't as safe or secure as they used to be.
Fiberglass, simply glass-reinforced plastic, is used to construct cars, boats, hot tubs, surfboards and more. Unlike metal is can be easily manipulated into any type of shape and is a much cheaper material to use in production. Unfortunately, if not well maintained and cared for, the glass fibers deteriorate over time. Especially cars with older fiberglass before strict material regulations were in place.
Because of its strength but being efficiently lightweight, fiberglass has been and will continue to be used to create a variety of products that we use every day. Restoring a fiberglass car can be a tempting project, but its important you know the risks before paying the junk yard to take it home and for all the supplies needed to turn it into your dream car.