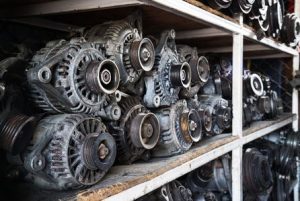 All American Auto Salvage in Rahway, NJ, is popular, as are most auto salvage yards around the country. Why is that? Well, whether you're wanting to buy a part for your own vehicle or you're in the vehicle repair business, you can take advantage of the many benefits of working with a salvage yard.
You Buy Closely Inspected Parts
For starters, all parts get thoroughly inspected for your satisfaction, so when you come to a salvage yard like All American, you know that you're going home or back to the shop with a reliable part. Did you know All American dismantles over 1000 late model cars and trucks annually? That's a lot of salvaged parts to have on hand for shoppers like you.
Cash Money for Junkers
Salvage yards are increasingly popular because they offer cash for "junk." Rather than just letting a vehicle rot in the driveway, turn it into a salvage yard and get quick cash for it– something's better than nothing, right? Your junk is probably another person's treasure.
Bargain Prices on Hard-to-Find Parts
Also, if you're looking for parts for a vehicle and can't easily find them, chances are you will find them at a salvage yard, and for a decent price. Why buy new when you can get used parts cheaper– and they're in fine, workable condition, too? Many shoppers pick up alternators or engines at salvage yards for a fraction of the price they'd pay elsewhere.
They're Good for the Environment
When you buy from salvage yards you're doing your part to save the planet. Indeed, reusing parts is a great way to be environmentally-friendly. Do you realize how much energy goes into manufacturing auto parts and such? It would be a shame to just waste them in a dump somewhere, never using them again even though they're perfectly usable. For the sake of a greener, cleaner earth, shop salvage yards.
Finally, when it comes to money, people love getting a good deal. And at places like All American Auto Salvage, that's exactly what they get. So if you're in the market for auto parts, come to All American and find quality parts for less than you'd pay at other places!