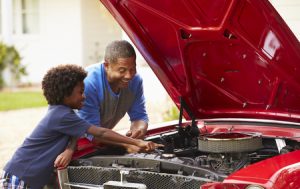 `
Restoring a car and bringing it back to its former glory can be a ton of fun. However, it can also be frustrating at times when you're trying to track down the parts that you'll need for it. Rather than scouring the internet for hard-to-find parts, you should touch base with a local salvage yard to see how they can help you. Take a look at how a salvage yard might be able to assist you while you're in the process of restoring a vehicle.
They can get you the parts that you need.
Salvage yards are filled to the brim with all kinds of car parts. From body panels to transmissions to engine components, you can find almost any part that you could possibly want at a salvage yard. If there is a specific part that you've been searching for, it never hurts to check with a salvage yard about it. They might have the part in stock, or they might be able to keep an eye out for it.
They can provide you with parts that won't break the bank.
When you're restoring a car, it's important to do it without spending a small fortune. You should create a budget for your project and do your best to stick to it. A salvage yard can help in this regard because most of the parts that they sell aren't going to cost you an arm and a leg. They'll be more affordable than they would be through most other sellers.
They can motivate you to continue restoring your vehicle.
As we mentioned earlier, restoring a car can be a little frustrating at times. When you can't find a part for it or you can't get something to work the way you want it to, you might feel like quitting and getting rid of the car. Working with a salvage yard will motivate you like never before to continue working on your car. It'll reenergize you and make you excited about working on your vehicle again.
Are you working on restoring a vehicle at the moment? Find out how All American Auto Salvage can help you locate the parts you need for your restoration project. Call us at 732-574-1945 to see if we have a specific part or browse through our inventory gallery to look for it.