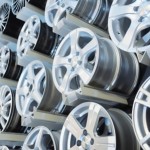 Buying used wheels for your vehicle can be a great way to save money while also staying safe. But brand new wheels can be expensive so as an alternative many drivers by gently used wheels as replacement or extra wheels. However, its important to use precaution when purchasing used wheels.
Properly inspecting wheels before purchasing helps you get the quality you want for what you're going to pay, and avoid future problems. If you are considering buying a used wheel, first check it for cracks or any distortion in the wheel like a bent rim. You don't want to purchase a wheel that has been damaged in an accident or just hitting too many potholes.
Also know that straightening or hammering the wheel back to functional condition is not at all safe, especially if the damage is so compromising it renders the rim useless. And, before buying the wheel make sure it holds air and can remain balanced without losing air. While some wheel damage can be fixed with polishing or sanding, if a wheel has damage like a major dent, gauge or scrape, throw it back. Any signs of corrosion especially are a huge red flag.
Used wheel dealers and auto salvage yards have broken down used wheels into grades. Grade A wheels, which don't have any damage, also don't have any cosmetic blemishes like scuffs. 1 unit of blemish is considered to be about the size of a credit card. A grade B wheel has only one unit of blemish and a grade C has one unit or more.
After proper inspection of the wheel, you should be able to either confidently purchase the product or pass on it for a better option. A used wheel in good condition can be a great purchase and save you hundreds of dollars.