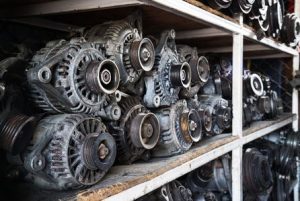 If you have a vehicle and it needs a part or two, then you should head to a salvage yard or junkyard, where parts are plentiful.
Oftentimes, people choose to buy used parts from a salvage yard because they know they'll get a good price– and that price will be cheaper than having to pay full price for a brand new part. So, it comes down to "Can I save money?" And the answer is: "Yes, you sure can."
Meanwhile, buying used parts is good for the environment, since you're reusing something that otherwise might have just been thrown away into a landfill.
Now if you're going to a salvage yard and you want to find the part or parts you're looking for, what are some tips?
Interchangeable Parts
For starters, keep in mind that some parts are interchangeable. So, you might be able to find parts that are "similar enough" from various makes and models that will end up working for your project. Before you go to the salvage yard, do some online research in order to find out this sort of information. For instance, you can do a Google search to see what the alternatives are for your particular part. You might discover that the part for your Ford is also the same part found on a certain Chevy.
Ask for Help
Once at a salvage yard, ask one of the workers where to look for your particular part(s). They know their stock better than you do, so they should be able to help you find exactly what you need. Depending on the salvage yard, you might be able to just give the worker key info such as the make, model and year of the vehicle in question, and they might go to a shelf in their building and find the part(s) you need! Or they can order the part you need.
When you're looking for reliable auto parts from a reputable salvage yard in New Jersey, look no further than All American Auto Salvage. Our salesmen will let you know right away if we have the part you're looking for, and if we don't, we can order it from another yard for you. Check out our inventory search page and contact us with any questions.