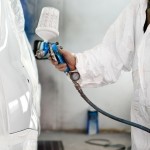 Aftermarket paints jobs are offered at thousands of auto shops around the country. Whether it's a touch up or full paint job on the whole vehicle, there are three things that set a seamless paint job apart from a sub-par result.
Call shops and read reviews to ensure that the company you choose to work with has good customer satisfaction. They should be able to tell you the products the use and how much time your job will take. Most importantly they should be upfront about the cost, even if it's just an over the phone estimate.
The right auto shop will also use good quality products. These can make a huge difference when it comes to the look and last of the paint job. After the job is complete the new paint will look shiny and smooth, withstanding weather exposure and constant use. When it comes to an aftermarket paint job, you get what you pay for. This is also why you should make sure the company you hire has years of experience.
The more experience an auto shop has, the better quality paint job they will produce. They wont have to spend time learning about the vehicle and original paint, because they will have surely worked with a similar auto before. They will also know what types of paint will work best and how they should be applied for the best result.
A quality aftermarket paint job, done by the right company, can cost somewhere in the thousands of dollars. However, for the color and look you want, it's worth it. Most importantly, when you choose a company with quality customer service, great products and years of experience you are sure to be impressed with the results.