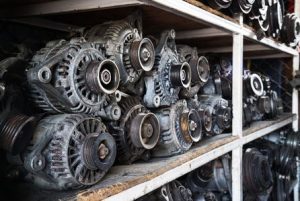 Many people know what an auto salvage yard is, but are have never actually been to one or used one. If you're one of those people, you could be missing out on tremendous opportunities that can help you with your vehicle needs.
Let's take a look at the ways an auto salvage yard can help you.
You Can Receive Money for Your "Junker"
Sure, your old vehicle may have character and years of memories, but at some point in time, all good things must come to an end. If your vehicle is no longer drivable or is no longer safe for anyone to use on the road, you can always bring it to a salvage yard… and get cash for it! It's the best of both worlds—you get money and the vehicle is no longer your problem.
Auto Salvage Yards Make Parts More Affordable
It's sometimes shocking to see how much used auto parts cost. Fortunately, when you work with an auto salvage yard, you can find used, reliable parts at the most affordable rates! Not only is it great for the environment to buy used parts, but it will also save you bundles of money. And when you work with a reputable auto salvage yard, you know the parts you buy still have a ton of life left in them.
Auto Salvage Yards Can Help You With Special Projects
Whether you're trying to restore an old car and need certain parts, or you're repairing a car that has been in a bender and need panel parts made from cut sheets, an auto salvage yard can help you find just what you're looking for.
If you're in the tri-state NJ area and want to work with a reliable auto salvage yard, learn how the experts All American Auto Salvage can help.