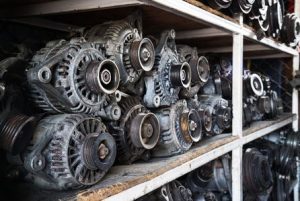 Did you know that All American Auto Salvage dismantles over 1,000 late model cars and trucks annually? In business since 1983, if you do the math, that's a heckuva lot of vehicles we've taken apart!
Our four acres of land in Rahway, New Jersey, contain auto parts that just might be exactly what you're looking for– think of All American Auto Salvage as a combination antique emporium, flea market, and parts' store all-in-one. People come from near and far to buy things such as body panels, engine components and transmission replacements. They appreciate that All American Auto Salvage provides high-quality, reclaimed/used auto parts– ones that have been inspected through our quality control program before being sold to you. Countless vehicles in New Jersey, New York and Connecticut have parts on them from All American.
So what are the benefits of getting parts from a salvage yard like All American?
The Benefits of Buying Parts at a Salvage Yard
First, there's the price. It's not unusual for people to be pleasantly surprised when they find the part they're looking for at a price they didn't expect to pay. "I thought I'd have to pay a lot more," is usually what's said. Think of it this way: you could buy a new widget for $100 but at the yard you might find it for, say, $20. Now that's a good deal. Just like the deals you get at yard sales and flea markets, a salvage yard typically means you're going to get what you're looking for at a bargain price.
Next, buying parts from a salvage yard is a good idea because salvage yards often have parts that are hard to find or parts that are no longer made. While you could go to a big box store and find certain parts for your 2014 Dodge Caravan– maybe– where are you going to find parts for your 1987 Honda Civic? Salvage yards are well known as places where classic car parts can be found!
Finally, in a world where we throw out so much stuff and clog landfills with our junk, isn't it nice to know that salvage yards are actually quite "green?" Instead of just throwing away perfectly reusable parts, a salvage yard stores them until a person like you comes along and says, "A-ha, you've got the piece I need!" So there's that recycling aspect to salvage yards– a very good thing for the environment.
Are you looking for car or truck parts? Email info@allamericanautosalvage.com or call 732-574-1945 today.